Excellence of Interheat Product - PAR
​● The Problems of existion PAR lamp
The PAR lamps used for long among the pig raising market in Europe and USA have been getting good response thanks to the thick glass made with compression method and the comparatively longer life than other company's R125(R40) lamp. But they still have various quality problems.
Unstable Life
It cannot guarantee the long life due to the high heat filled inside of the lamp since the heat cannot be discharged easily due to the thick glass of the PAR lamp.
Loose of welding line ; PAR lamp is electrically connected and lit after connecting the filament through lead-in wire with Nickel-Cobalt alloy outside of glass shell and base by welding.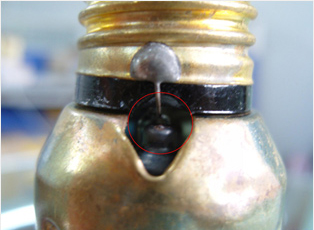 The lead-in wire
Comes off easily from the Nickel-Cobalt alloy during the use due to the unstable welding, and this causes the lamp not to be lit and eventually makes the lamp's life short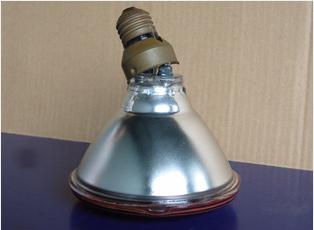 Loose base
The base of PAR lamp is fixed to the glass punched into the hole of the cylindrical area of glass not to be moved after it is inserted into the cylindrical area of glass vertically. It is tightly inserted at first, but becomes loose when the light is continuously on because the thermal coefficient of it is bigger than the glass. So the base can easily drop from the glass by light touch of piglets. This causes a lot of complaints from the pig farms.
​● The advantages of Interheat 3G PAR lamp
Change of the manufacturing process
There is no way to improve the unstable quality of the existing PAR lamp as long as it adopts lead-in wire welding method. Accordingly, Interheat developed a totally different manufacturing process, naming it 3G PAR lamp, and removed all the outside causes of the short life. In addition, it is an epoch-making paradigm shift not to use the troublesome E27 2 level base, but to use the common E27 base.
Expansion of internal volume
Existing PAR lamp cannot provide proper circumstance to have long life because it has too small internal volume compared to the high heat. Interheat expanded the volume to the maximum limit proper to the international standard and provided proper environment for the long life of filament.
Solved the problem of Loose-base
The problem of Loose-base is fundamentally solved by making the glass of the PAR lamp in the screw shape. Interheat is the only brand that has the exchange policy of "1 Loose Base = 10 Free Bulbs" for the faulty products.
​